Our first aid transport to Krakovez/Ukraine (8 March 2022)
You could say that it took a while until we decided to send a first aid transport to Ukraine, but on the other hand we didn't just want to collect donations in an actionist way and to carry them on good luck. We want to help in a targeted and needs-oriented way. Our friends at the children's home in Krakovez sent us lists of items that are urgently needed, including mattresses, pillows, food, hygiene, sanitary items and certain medicines. Krakovez is located directly at the largest border crossing with Poland, where a large part of the flow of refugees is currently moving or congesting towards the west, as we later discovered.
The children's home has now been converted into a place where children who have been evacuated from the war zone are accommodated. At the time, there were more than 50 children, but it was said that there could be up to 150 or 160 children. That's why sleeping places are so important. We bought 35 mattresses and 25 duvets worth 1,600 EUR, which does not quite cover the demand yet, but is at least a first important step, as well as sleeping bags and children's clothing, which were contributed by the "bus company Jens Kretzschmar" from Kalkreuth near Großenhain. The latter also took part in the trip with their own minibus, for which we would like to thank him very much. This was once again a great example of people who contacted us to offer unconventional and unselfishly fast help. These include Björn Keyser from the LÖMA/REWE market in Radebeul (food donation worth 400 EUR) and the hospital Coswig (medicines for 600 EUR).

A total of three minibuses were on the way, all fully loaded up to the roof. Entry into Ukraine was relatively fast (only 2 hours waiting time at the border), but on the other hand, the border area resembled a huge refugee camp, where thousands of cars jammed and countless people, most of them women, children and the elderly, endured and camped in the cold. It was very difficult to navigate the minibuses through the crowd to turn to Krakovez, which is only a kilometer and a half from the border.
In the home itself, people were really moved to tears that we had set up this transport. Everyone there lives and works under great tension, hardly any sleep and also with the fear of whether the war will also come to them in the not yet so affected west of the country (today, on March 13 we know it – it comes!!!).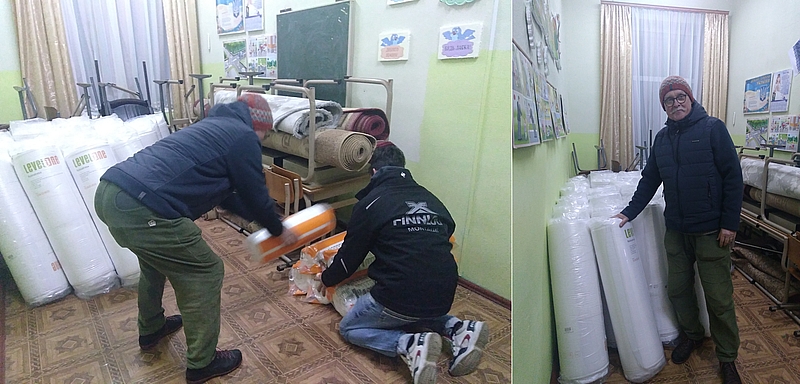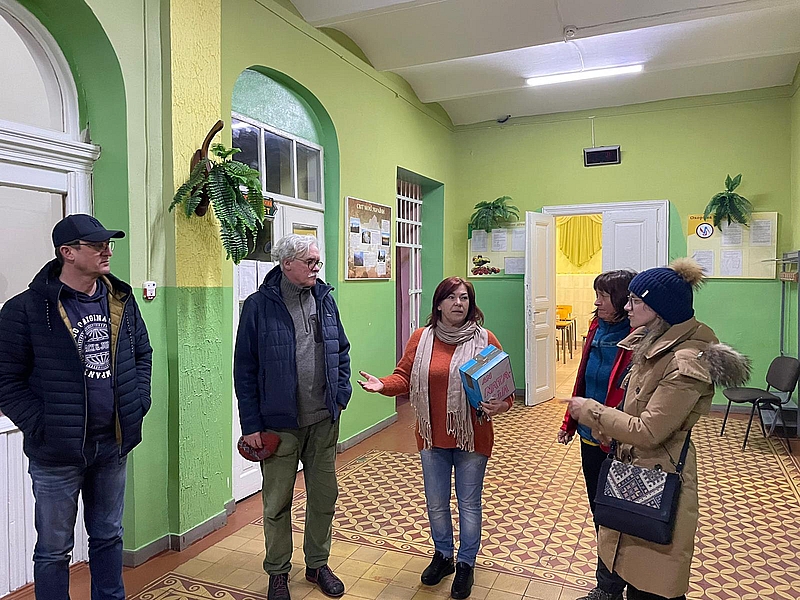 After unloading the bus on the evening of March 8, it would have been time to move into the night quarters to return the next morning rested, but then it was spontaneously decided to go back immediately, if only to get across the chaotically congested border. Natalia, the home director, had contacts with the border authorities, who then organized a kind of escort for the three minibuses right in front of the border clearance, past the jammed buses and crowds – but even that could not prevent us from standing at the checkpoint for 5 hours until we could finally cross the border.
The pictures we saw there cannot be described in words. We were deeply shocked by how women and children and also many young children stayed there in sub-zero temperatures in order to finally be able to cross the border, and certainly after days of fleeing across the country. On the Ukrainian side, people jammed, on the Polish side, buses drove incessantly to invite people and drive inland. We already assume that the refugees have therefore only been allowed across the border in groups so that the Polish side is not "flooded" and the transport collapses. Nevertheless, they are harrowing images that have dug deep into us and make us think about whether we would not be better off handing over the aid to our Ukrainian friends on the Polish side during the next transport.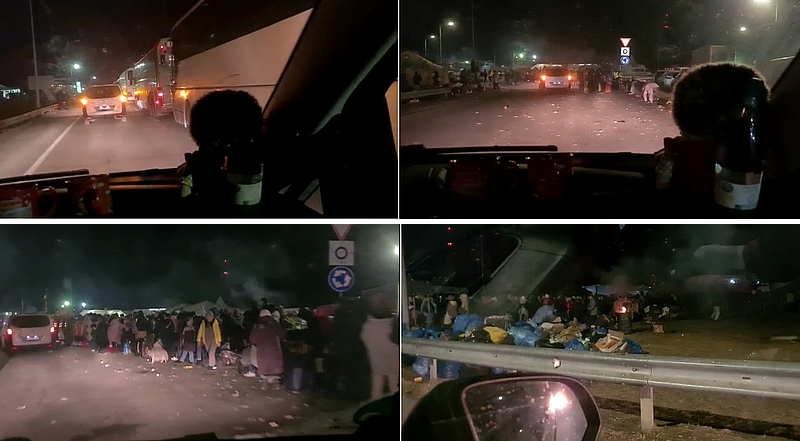 Since there are always questions about whether we take refugees with us to Germany – so far we have held back, only if they are people we know and who have a point of contact in Germany. So it happened on our way back that we took a Ukrainian family with two children (6 and 14 years old), who comes from Nikopol and had been on the escape for three days. We put them on the train in Dresden to Freiburg, where they have relatives.
At noon on March 9, we were back in Dresden and now have to think about our next steps and actions. We will get back to you as soon as we have concrete plans.
Next aid transport to Krakovez on March 26
On March 18, our annual general meeting took place, at which we discussed our upcoming activities. Our next transport to Krakovez starts on March 26. We will again transport everyday necessities, according to the lists we received from the children's home, transfer a pickup truck that our friends in Krakovez can use very well to maintain the supply, and we will carry an emergency generator with us. We also have many donations on board, but ask you to refrain from further donations in kind, because we do not see ourselves in a position to transport or temporarily store such large quantities and also the demand is not so high.
We would like to thank all the people who support us in so many ways!
We also ask for monetary donations to the following account:
IBAN: DE25 8505 5000 3010 0256 44
BIC: SOLADES1MEI
Sparkasse Meissen
Account holder: Partnerschaft mit Osteuropa e.V.
Purpose: Ukrainehilfe (please add address if a donation receipt is desired)